Why Do People Choose Us for Their MicroTESE Procedure?
Dr. Trost is the former head of male infertility at the Mayo Clinic, where he and his team trained residents and fellows to perform microTESE procedures

Experienced surgical providers - routinely perform 15+ male fertility procedures weekly (among the highest in the US)

First in world to publish office-based microTESE procedures under local anesthesia
Lowest price for a microTESE in the United States - if you can find a lower rate, we'll match it

$2,500 includes all costs except shipping (if required)

Able to ship specimen to other states or countries - we regularly work with REI centers from around the US

Accepting CareCredit (no interest financing x 6 months -

click for link

)
Convenience and Experience
Nationally recognized fertility expert with >100 scientific publications

45 minutes from SLC International Airport

Video, phone, or office consults available (click to schedule)

Direct access to surgeons post-op

Option for partners to observe procedure in surgical suite
Most of our patients travel from out of state for microTESE procedures.  Once scheduled, patients arrive on the day of surgery and have an initial consultation followed by the procedure.  Only men who are sure that they need a microTESE procedure should preschedule surgery.  After the procedure is completed, our team will spend several hours searching for sperm.  If sperm are identified for IVF, we will then freeze (cryopreserve) the specimen and will arrange transportation with your IVF/ICSI team.  We typically use a 3rd party to ship the specimen (Cryoport), and the cost of shipping is usually $650-750 for interstate transportation. 
Men who have non-obstructive azoospermia are good candidates for a microTESE procedure.  In other words, these are men who have no sperm in their ejaculate and do not have a cause for the low count (i.e. prior vasectomy or inguinal hernia repair).  They often have elevated FSH hormone values, and the testicles may be smaller than average.
All of our fertility services are offered 'at cost.'  Because we are able to perform the procedure with local anesthesia (with or without mild sedation), this eliminates two major costs: hospital and anesthesia fees.  This allows us to perform the same procedure but without the added overhead costs which usually accompany these procedures.  However, it is important to note that we have not compromised the surgical procedure quality in any way. 
Our success rates are similar to other published rates (60-70%).  However, it is important to recognize that this is the chance of finding at least one sperm during the procedure and does not necessarily mean that there will be enough sperm to proceed with IVF/ICSI.  In reality, we are only able to find enough sperm to proceed with IVF/ICSI in about half of the cases where sperm are identified.  This means that the true rate of finding enough sperm to allow moving forward with IVF/ICSI is more in the 25-35% range. And in those cases, we still recommend having donor backup sperm since only about half of those cases will be able to achieve an actual pregnancy.  These details are important to recognize, since we feel that the 60-70% number can be misleading otherwise. 
Our Out of State Patients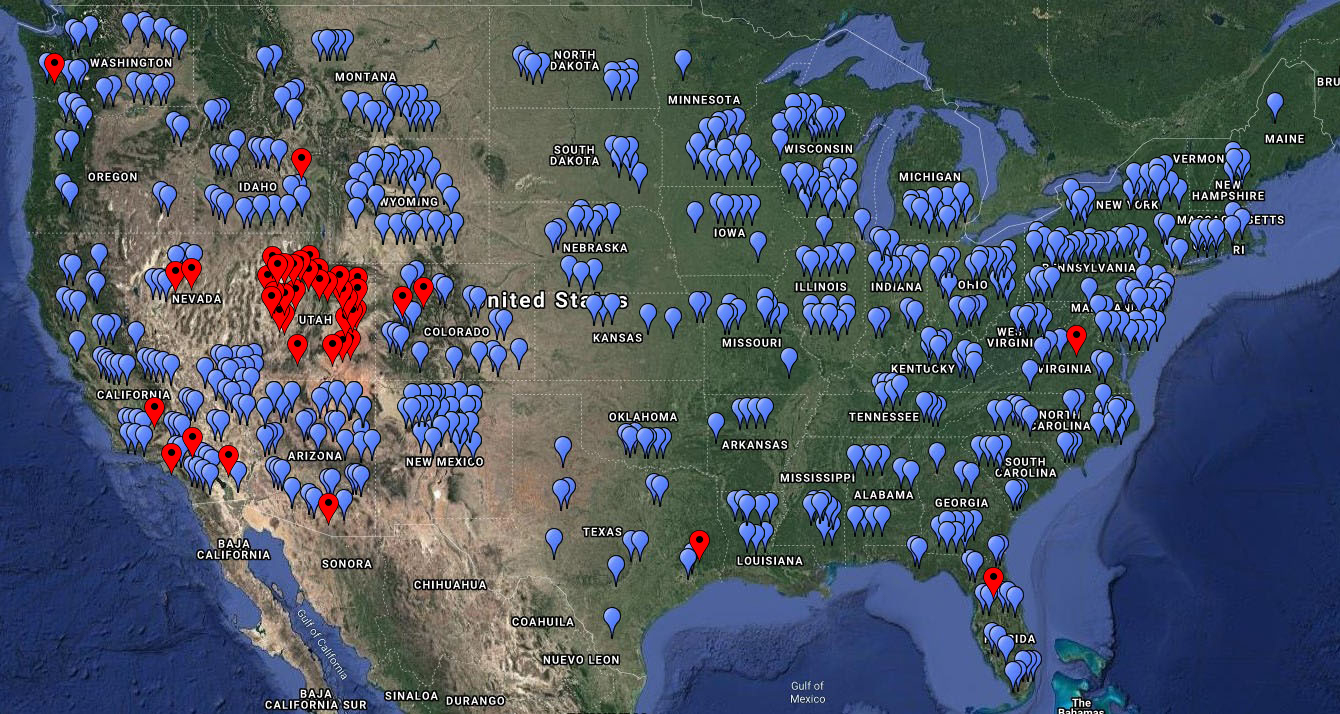 Blue pins represent individuals, red pins represent 50+ people. We have served patients from all 50 states!  (Last updated April 2022)
Schedule a Visit, Phone Call, or Surgery